Jobs are the backbone of the server economy! Players can earn money through performing a variety of actions within our vast jobs network. All players start with one job upon joining their first guild, and can unlock more jobs and job slots as they progress through the game!

There is no penalty for leaving a job! If you leave a guild, you may lose access to joining the job, but the job will not reset. This means you will never lose levels in your job.
Players can switch between any job available in their guild, as subject to a 2-hour cooldown.
Vestria has 11 unique jobs! Each job earns money through performing specific tasks. Provided below is an overview of each job:
To view a complete list of what each job is paid to do, use /jobs info <job name> in-game.
Chef
Digger
Lumberjack
Miner
Smith
Fisherman
Farmer
Hunter
Enchanter
Wizard
Florist
Every guild has access to three different jobs! To join a specific job, a player must be in a guild that has access to it. While some jobs are unique to one guild, others are available to multiple guilds! Provided below is an overview of which jobs each guild is able to join:
Scavenger
Builder
Blacksmith
Farmer
Merchant
Brewer
Mage
Noble
Artist
As you perform more tasks in your job, you will gain jobs experience and level up. Every additional level that you achieve in your job will come with a payout boost. You can view what your current payout is with /jobs info <job name> and view your progress in your current jobs with /jobs stats.
You can view the jobs leaderboards by doing /jobs top <job name> and see who is the highest level in each job and do /jobs stats <player name> to view the jobs stats of a specific player!
Certain blocks are labelled as job stations when a player places and interacts with them. You can only earn payout from stations registered as a job station. The maximum number of job stations for each respective block is outlined below: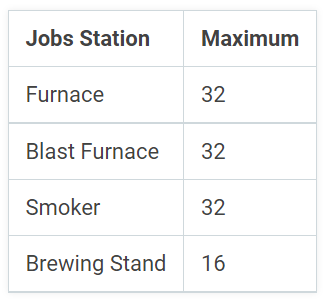 To unregister a single job station, just break the block. To unregister all your job stations, use /jobs clearownership.